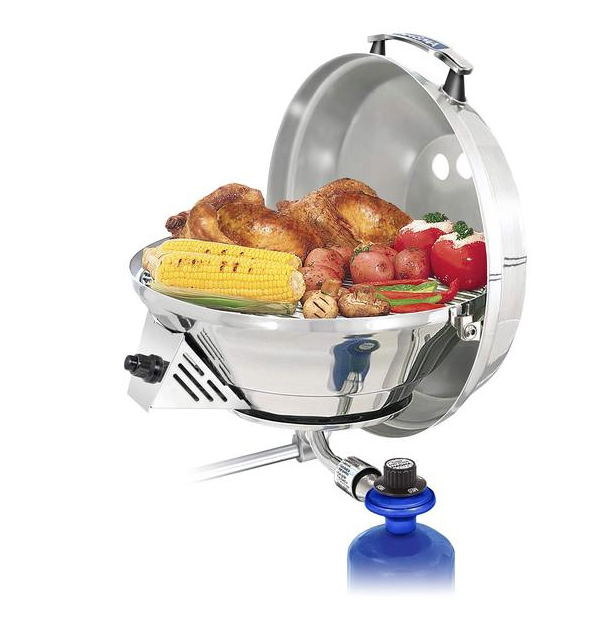 Barbeques
Magma Marine Kettle 3 Original Size Combination Stove & Gas Gril
Magma Marine Kettle 3 "Original Size" Combination Stove & Gas Grill 15" (38.1 cm) Diameter A10-207-3-CSA
Enhance your grilling experience with Magma's new Marine Kettle 3 Combination Stove and Gas Grill. A redesigned version of our Marine Kettle 2, this versatile, portable gas grill includes features that are both useful and user friendly. Incorporated with a new dependable electronic ignition system, powered by a single "AAA" Alkaline battery (included), which lights first time every time.
A newly redesigned Heavy-Duty inner safety shell that keeps the outside of the grill cooler, guards against discoloration, while adding years of life to the grill. While the mirror polished, 18-9 marine-grade stainless exterior finish provides superior corrosion resistance, in even the harshest environments.
Dependable, even in a stiff breeze, due to a virtual blow-out proof turbo venturi tube, patented heat distribution system, and burner, that directs more heat to the cooking surface. The new style swiveling control valve / regulator is designed to connect to 1lb. disposable propane fuel canisters and allows for quick, safe canister exchanges while increasing grilling performance. Grill can also be easily adapted to any existing on-board LPG (propane) or CNG (natural gas) fuel system.
Additional features include a balanced hinged lid that won't slam shut as the boat rolls, polished, 18-9 Stainless Steel "Stay Cool" handle with air cooled supports, and indexing cast Stainless Steel L-bracket and clamp assembly to provide easier, more positive level mounting.
These new features combined with Magma's patented radiant plate and dome system, make this the only boat grill that is truly a grill, stove, or oven - a great advantage to boats without a galley, or if the crew just wants to cook outdoors.
New Electronic Pulse ignition system; always lights
100% 18-9 Mirror polished stainless steel; for long lasting beauty and superior corrosion resistance
New design Control Valve / Regulator for increased grilling performance; conveniently uses 1lb disposable propane fuel canisters
Swiveling, windproof turbo Venturi Tube and Control Valve/Regulator; virtually eliminates blow-outs, places fuel and valve where it is convenient to you, and allows safe, easy canister exchanges
Newly redesigned Heavy-Duty stainless steel inner Safety Shell; keeps outer shell cooler for safety, guards against discoloration, and adds years of life to the grill
Burner and Hi Tech Radiant Plate and dome heat distribution design; less flare ups, longer grill life, perfect even heat distribution as a grill or direct open flame cooking as a stove
"Stay Cool" Cast 18-9 Stainless Steel Handle with air cooled supports
Perfectly balanced hinged lid; will not slam shut
Cast 18-9 Stainless Steel L-bracket Mount Clamp; indexed for positive non-slip level mounting
Magma's patented design utilizes both radiant and convection cooking; the hottest temperatures with the least amount of fuel, fast and efficient