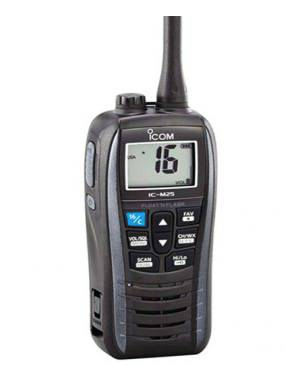 Handheld VHF radios
Icom M25 Handheld VHF Radio - Metallic Gray
Icom IC-M25 - Metallic Gray
Icom pioneered the floating VHF marine radio and others followed. Setting a new trend with the IC-M24 and now the IC-M25.
The IC-M25 has a flashing light feature that activates when the radio hits water, even if the power is off! If you drop this floating radio overboard, it's easier to find than ever, day or night with the flashing red LED light and LCD/key backlight. The 7.76-ounce (220g) lightweight and 1.2 inch (30.5mm) slim body is the new benchmark for floating marine transceivers. The IC-M25's LCD is 30% larger than the IC-M24's and clearly shows large channel number and status icons. The buttons on the front panel are well laid out and provide simple and straightforward operation.
The IC-M25 provides a powerful 550mW audio output and received voice can be heard loud and clear. By holding the VOL/SQL button with ▲ (up) button, the volume is instantly turned up to the maximum level. When water is in the speaker grill, Icom's unique AquaQuake feature emits a buzzing sound and sheds water from the speaker. This function assures clear sharp sound at all times.
With a large built-in 1500mAh lithium-ion battery, the IC-M25 allows 11 hours (approx.) of operation. (**Typical operation with Tx Hi: Rx: standby ratio of 5:5:90)
The optional HM-213 waterproof speaker microphone provides commercial grade convenience while mounting the radio on your waist.
Features:
IPX7 waterproof construction (1m depth of water for 30 minutes)
4-step battery life indicator
Weather channel with weather alert (USA version only)
Dual/Tri-watch functions
Instant access to Channel 16 or programmable call channel
Favorite channel function
Monitor function opens noise squelch
Auto scan function
LCD auto backlighting
Supplied Accessories:
USB Battery Charger, BC-217SA
Belt clip, MB-133
Antenna, FA-SC59V
Hand strap